Background
For over a decade, India has been in the verge of implementing a single Goods and Service Tax to simplify the present complicated Indirect tax structure. Now, the Constitution bill has been assented by the President on 8th September 2016 empowering both the Central and the State Government to levy GST. Therefore, the most awaited GST is all setup to be introduced w.e.f. 1st April 2017.
The proposed GST will no doubt relieve the tax-payers from filing a number of returns for the multiple taxes and duties but also paves way for a common national market. So, with the introduction of GST, days are not far to experience a completely overhauled, transparent and simplified Indirect tax system in India.
GST Software
Winman Software India LLP has been developing software with the main objective to "Turn complex into simple, and simple to even more simpler". Towards this, we have already developed our Flagship product 'Winman CA-ERP' which is known for its extreme user-friendliness. Now, we are into developing GST software which will cater to all the requirements of GST and thereby facilitate filing of simplified GST returns in a more simpler way. Click here
More about GST
GST (Goods & Services Tax) is a destination based tax on consumption of goods and services. It is proposed to be levied at all stages right from manufacturer to the ultimate consumer. In simple words, GST is basically a tax only on value addition at each stage where benefit of input tax paid at previous stages is available as set-off in subsequent stage of value addition. Thus, GST mitigates the cascading of taxes resulting in overall reduction in tax burden to the ultimate consumers.
The GST is introduced mainly to ensure unified tax rate all over the country by way of amalgamating the various taxes (except taxes levied & collected by local bodies) which are presently being levied and collected by both Central and State Government into a Single Tax.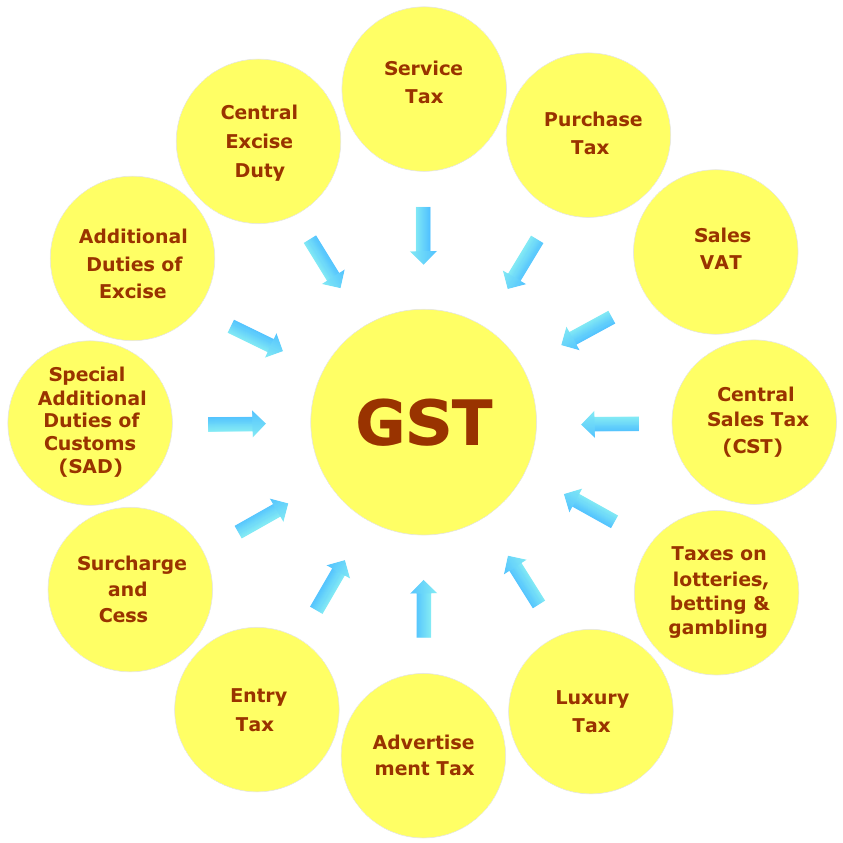 Benefits of GST
Almost all the sectors of the economy will reap benefits from implementation of GST. List of some of the key benefits of GST are:
Simplified & Transparent tax system

Fewer rates and exemptions

Reduction in tax liability burden

Elimination of cascading of taxes

Reduction in prices of goods & services

Uniform tax rate throughout the country

Development of common national market

Advantage of Input tax credit

No multiple taxes and returns

Fewer record maintenance

Paves way for competitive economy

Easy compliance due to online registrations, returns, payments, etc.

No more distinguishing between goods and services
And many more…….
How GST will be levied?
GST will be levied on all goods and services except on goods which are outside the scope of GST, exempted goods & services and transactions below threshold limit.

Few goods which are kept outside the GST regime:-

Alcohol for human consumption

Petroleum Products viz. petroleum crude, motor spirit (petrol), high speed diesel, natural gas and aviation turbine fuel

Electricity

Businesses in the North-eastern and hill states with annual turnover below Rs.10 lakh would be out of the GST regime, while the threshold for the exemption in the rest of India would be an annual turnover of Rs. 20 lakh.

Main components of GST:-

Central GST (CGST): levied and collected by Central Government on intra-state supplies

State GST (SGST): levied and collected by State Government intra-state supplies

Integrated GST (IGST): levied and collected by Central Government on inter-state supplies, import of goods and services.

The administration of CGST and IGST is done by Central government, whereas, administration of SGST will be done by respective states.

Proposed four rates based on Revenue Neutral Rates (RNR) viz.,

Merit rate – essential goods or services

Standard rate – goods or services in general

Special rate – precious metals

Zero rate – exempted goods or services

Small taxpayers with an aggregate turnover in a financial year up to Rs.50 lakh shall be eligible for composition scheme (i.e. tax at a flat rate without credits).

Exports of goods and services are considered as 'Zero-Rated supplies' i.e., no tax will be payable on export of goods and services.

Cross utilization of credit of CGST between goods and services would be available. The facility of cross utilization of credit will also be available in case of SGST. However, the cross utilization of CGST and SGST would be allowed only in case of inter-state supply of goods and services (IGST).